RoadTrip pop-up barbecues work really well for on-the-road grilling. However, what if you want something smaller? You may like the more compact Coleman Tabletop Propane Grill, plus it weighs half as much as the RoadTrip 285.

As a result, this portable gas bbq takes up less space in your car. Not to mention, you can easily carry it without needing to roll it on the ground.
On the other hand, if you want a small outdoor barbecue to use on a balcony or deck, the tabletop version works for that too. If you already have a table, you won't need the fold-down legs anyways.

Tabletop Gas Grill VS Other RoadTrip Grills:
This tabletop model operates almost identically to the RoadTrip 225, except it doesn't come with legs. For example, it has the same 225 inches of cooking space, 2 burners, 11,000 BTU's and easy push button ignition.
In addition, you get convenient temperature control with adjustable burners. Plus, the grill includes a water pan for catching cooking grease.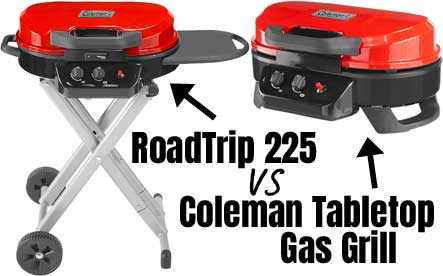 However, the RoadTrip 225 comes with a side table for food prep. The tabletop version doesn't, but most likely you'll be using it on a picnic bench or truck bed that provides that extra space.

You pay about $40 less for the table grill, which can save you a good amount of money. Or you can also spend your savings on a Swaptop accessory to level up your cooking game. =)
In either case, you get an easy-to-use, easy-to-clean grill that you'll enjoy using. Not to mention, you can cook a significant amount of food at one time, even for a smaller sized bbq.
Compared to the RoadTrip 285, the 225 and the Tabletop have 60 square inches less cooking space and one less burner. The $50 Party Grill, on the other hand, is much smaller with less cooking capacity.
Coleman grills are well-made and designed to last. In fact, some customers own more than one grill.
How to Make Your Coleman Tabletop Grill Multi-Functional:
Just because you have a compact, travel-size grill doesn't mean you have to give up a multi-functional grill. This tabletop bbq works with Coleman's Swaptop accessories, including the steel stove grate.

The burner grate measures approximately 12 inches in diameter. Therefore, it can support a 12-inch pan or pot for frying, sautéing and boiling.
Plus, this handy accessory widens your meal options to soups, chili, pancakes, oatmeal and more. Alternatively, you can get a Swaptop griddle plate or other grill plate options.
Specs for the Coleman Tabletop Propane Grill:
Dimensions: 29″ Long x 18.5″ Wide x 11″ Tall
Weight: 26 lbs
Cooking Area: 225 Square Inches
2 Temperature Zones
Burners: 2
BTU's: 11,000
Power Source: Propane
Matchless Lighting
2 Color Options: Red or Black
Comes Pre-Assembled
Does Not Include Propane Tank
Model #: 225 Tabletop
For Sale: Where to Buy the Tabletop Grill