Do you want the latest version of the RoadTrip LXE Grill? The new Coleman RoadTrip 285 now comes with 3 separate burners that you can control independently.
Therefore, you can cook multiple dishes at different heat levels – all at the same time.
Whether you want to cook various foods simultaneously or like having more control over the heat, these 3 separate "temperature zones" come in handy.
If you are a long-time fan of RoadTrip Grills, you already know why so many people swear by this compact, portable grill. Below, I talk about what's new with the 285 BBQ – plus all the great features we get to keep. =)
Coleman LXE Grill VS the New RoadTrip 285:
Similar to the LXE model, we still get the elongated 285 square inches of grilling space with the pull-out side tables. In other words, you get a significant amount of area to prep and cook in a compact, portable BBQ.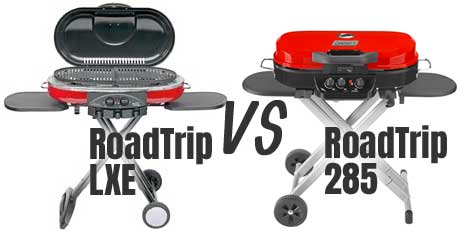 In addition, both the LXE and RoadTrip 285 deliver up to 20,000 BTU's. Plus, they both include the convenient Instastart ignition system. Therefore, you don't need a match to light your BBQ, and you can have a hot grill within minutes.
Note: Just connect a 1-lb propane tank to the grill, and you are ready to get cooking!

You can get these mini gas tanks in cheap multi-packs at big box stores like Walmart.
Easy Portability Features for Traveling with Your Grill:

Just like the older model, the 285 Grill features the user-friendly portability functions. For example, the grill folds flat for easy transportation. (You can even store the BBQ upright when you have limited space.)
Plus, it has built-in wheels and an extending handle, so you can roll it around like a luggage bag. (By the way, the lid locks, so you don't have to worry about it flying open while you roll it to your campsite.)
When you want to start cooking, simply unfold the legs (the previously-used wheels and carrying handle). Then, pull out the attached side tables. You've got an instant stand-up grill without all the hassle!

Not only that, but you've got space to set meats, utensils, seasonings and of course, your beer. If this is not quick and easy outdoor cooking, I don't know what is.
And if you need extra space for placing/serving food, dishes, etc.. check out this outdoor prep table from Keter. It's like a mobile outdoor kitchen – on wheels.
How to Get More Use Out of Your BBQ…
Note: By the way, you can use Swaptop interchangeable cooktops, just like you can with the RoadTrip LXE. The swappable cooktops give you even more versatility when it comes to outdoor cooking because you can opt for a full-length griddle or stove grate instead.

You can buy them as a bundle set or purchase them separately. In fact, you can even get a Swaptop Carrying Case to organize all your Coleman grilling accessories.
Grilled food tastes great, but when you make outdoor cooking more fun, meals will taste even better, right? I totally agree…
A big part of that comes down to clean up. That's why Coleman incorporated a removable water pan – to make cleaning fast and easy. And who doesn't want that, right?
Specs for the Coleman RoadTrip 285:

Folded Size: 30.2″ L x 19.2″ W x 16.1″ T
Assembled Height: 35″ Tall
Weight: 47 lbs
Burners: 3
Grill Grate Material: Porcelain Coated
Cooking Area: 285 Square Inches
Heat Output: 3,250-20,000 BTUs
InstaStart Ignition
Integrated Thermometer Gauge
5 Colors: Black, Blue, Green, Red or Orange
Model #: 2000033052
Manufacturer:

Coleman

Phone: (800) 835-3278